Max Payne 3 | Review (Xbox 360)
I stared back at the vile grimace from the man on the cover. This wretched, self-loathing and depressed pile of garbage was to entertain me for at least six hours. The controller shook and the credits rolled. Leaning back into my chair, I felt a sense of exhaustion and thoughts riddled my mind like Max's bullet riddled body. Had Rockstar done what they set out to do? Or had their weird style gotten the better of themselves, leaving Max Payne 3 in a void, spiraling down into decisiveness?
Max has found himself at the bottom of the barrel, he's left the NYPD and taken up odd jobs - mostly being a bodyguard and that line of work - to fuel his addiction to booze and painkillers. Of course, he's wound up with another job and we're whisked away from dreary New York to the equally depressing San Paulo, Brazil. Predictably with Max Payne, things go from "bad" - the people he's protecting getting kidnapped - to "horrendous" (which I'm sure you can figure out, it's not pretty).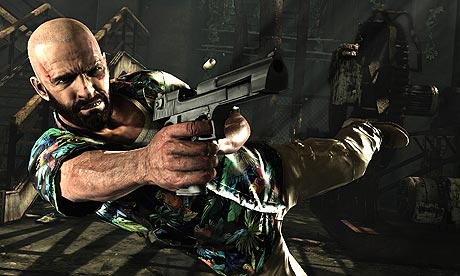 How Rockstar handled Max through the game bothered me immensely. It's probably been said before, but why alcohol? You have this character who is only kept alive from the amount of painkillers inside him, churning his black, rusty gears. The reason this entire story arc rubbed me the wrong way is because they've got this theme running with the gameplay, where Max is older, unhealthier and not the spindly little scallywag he used to be. This affects the gameplay, he's much slower on his feet, diving looks like it's almost crippling him and getting up from a dive takes forever, you sort of just want to have Passos (let's say the semi-Mona Sax of this game) to reach down and lend him a hand to get him up quicker. So if Rockstar is running with this theme, Max is just imploding on himself, why can't we see a story arc with the painkillers? If we're going to have context from the story leap over into the gameplay and have an effect on it, why haven't you gone all the way? To be honest, I think those with the 'nostalgia' or knowledge of the Max Payne games would love to see how Max would cope without downing a bottle of pills.
Max as a character isn't the vengeful spirit he once was, instead we get to see a different side to him. The side that's the after effects of years of grief and awfulness. He's cracked and we can definitely tell; lounging around, smoking and drinking. He's given up and the only thing that drives him through the day is the job, mostly because it results in free drinks and payment, for more booze. Being a big fan of the first two games, it's kind of upsetting to see Max in this awful state at first, but eventually he just becomes annoying. We get it, Rockstar, he hates himself. An incredible amount of the monologues that he recites come across as a man trying to break the world record for most self-loathing. He's also become a bit of an asshole, but then again, I can relate to this side; he despises the people who he's forced to protect. Those extravagant people who have nothing in between their ears. (Actually, I think he even says something along those lines at some point about a character called Marcello).
To be honest, the story isn't fantastic. I saw a comment that said it feels like "The Princess is in another castle" scenario and it really does, but in addition, you are taken to a hefty amount of places, from the rich people's towers, the slums and flashbacks in New York are genuine thrill to play through, mostly because they hit that old Max Payne feeling.
Rockstar has done away with the comic book aesthetic and theme, leaving the monologues from Max in this limbo of "these sound neat, but damn, they're out of place!" It just feels incredibly weird to hear him talk like this without the backing of a ridiculous comic book where this would fit in, not this attempt at a hard boiled and gritty crime film. While the noir is there, I would have liked to see Rockstar go all out with their way, step on all the egg shells, crush them and just rewrite the monologues as if they were in this crime movie, because they sound hokey and outright daft at times.
Max Payne 3's aesthetic reminds me a lot of Kane & Lynch 2, that awful grot and complete lack of care to any of the areas you're actually in. The weird camera filters also just scream it and while Kane & Lynch 2 wasn't fantastic to look at, Max Payne excels at just looking brilliant. Brazil is flushed with this sickening sepia hue and the flashbacks to New York are as grimy and give me the sense of that 90's or early 2000's take on comic book NY. Although the game is set in Brazil, the areas depicted and the places you'll go all match up to what makes a Max Payne game, it's just everything surrounding it feels like it didn't hit the mark.
Like the gameplay, for instance. It just feels sluggish and probably due to the 'modernization' of the series, with cover and holding the left trigger to zoom in. Welcome editions, sure, but the addition of cover slows down the combat situations, which in Max Payne 1 or 2, might have been dealt with in a couple minutes, seem to drag on and on.
But even though Rockstar have implemented these new modern things, why don't we have regenerating health? I don't mean on the scale of say, Gears of War or other AAA shooters, I mean just when we're dawdling around trying to scrounge every last corner for the potential for more health (which isn't around a lot, but they combat this by supplying you painkillers if you die three times in a row). Also it wouldn't heal all the way, similar to what's already in place when the
white silhouette is fully red and trickles down.
On the subject of health and life, you die way too quickly. Absurdly quickly. I guess it keeps in with the original Max Payne games, that break neck action that will surprise you with a thug just blowing you away, but they haven't improved on this aspect. I don't know if I'm getting hit, Max doesn't grunt or squirm, he just soldiers on through until I have sit through the three panels showing the way Max rag-dolled this time. It's kind of weird that the only time Max looks in pain is when he's been frozen in a grey storyboard-like panel and has this grimace on his face.
Combat has this rather nice flow to it and Max flows really nicely. He'll aim backwards while shooting and moving in the same direction you intend to go or when he gets into cover, you'll watch him slide or roll in, avoiding bullets as he goes. It's a shame the dive has taken a backseat, with no real opportunity to use it properly; mostly due to the fact that Max takes a year to get up and even then, will probably have been either dropped to the floor again or died. The only time I found it of any use is during the very few sections in which you have the element of surprise and when it did work? Oh, we were living the glory days, Max and I. Him flinging himself backwards as I took aim and blasted a few fools away.
I'd have to say the best moment when I used the dive was during a bit where you're above the enemy and they're searching around. Having failed this bit a couple times, I popped in the complementary painkiller and took the leap, decimating the majority of the folks below and remaining prone in slow motion, wiping out the couple guys left. Once the other thugs from inside the area they were searching heard, I got up and killed them too, all in this rapid and supremely exciting succession.
It's moments like this I was expecting to have more of and it's just a damned shame that Rockstar didn't design their game for this to happen more often. Instead, they once again decided that story must take over the gameplay and it harms the fluidity that Max Payne had set up. When I'm trapped behind cover and having to use the slow motion I just got in a spectacular way, it feels more akin to Red Dead Redemption or GTA, whereas Rockstar should have moved themselves as far away as they possibly could. I even used the Free Aim option, just because I wanted that freedom to aim where I wanted and how I wanted.
Quickly returning back to health, there's a mechanic that if you happen to have a painkiller spare, you'll drop to the floor in slow motion and given the chance at life - if you can kill the person who brought you down. It's not a hard thing to pull off, the camera and the reticle pulls straight to them, but you can drop at some really awkward moments. Like, I was on a boat or yacht, dropped to the floor and had to sit for at least two minutes until the game had decided enough was enough, because I couldn't get to him and he couldn't get to me.
Rockstar have decided to throw in a multiplayer component and the clan system that's heavily featured will make it's way into GTAV in some capacity (most likely the clans' members will just transfer over). The actual multiplayer is a little boring, if I'm honest. It's just a cover based shooter and it feels stiff and lifeless. Sure, the way they handle bullet-time (everyone in the camera's view is affected by being slowed down for an advantageous or disadvantageous effect) and it could last you quite a bit - with unlockables and that lark - but really, it's the weakest of the multiplayer bits in recent Rockstar games.
There's also some 'Arcade modes', where you finish levels in the quickest time possible or rack up seconds from killing enemies to add to a pool of time. In New York Minute, you start with a minute and the goal is to finish before that minute is up, but also racking up more and more time. So in the leaderboards, you've got me with one minute thirty (roughly), while the top of the leaderboard managed to rack nearly five minutes in total. These modes require you to keep moving, but with the sluggishness, it just comes down to how quickly can you slow down time and manage to take out all the bad guys and whether you know EXACTLY what they're going to do or where they'll be.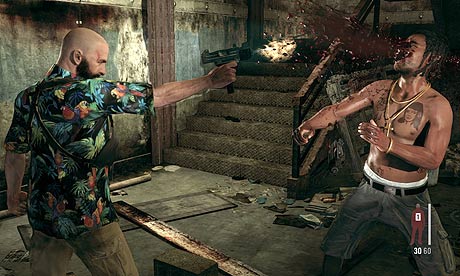 The soundtrack is phenomenal. It might be Rockstar's best action to this game as whole, it builds up and it lowers for those 'quieter' moments. There's a particular scene in which that song plays and the ever slow addition of each component of the song as you progress forward in this shootout is fantastic to play through or even watch.
On a quick side note, this game is gory as all hell. I don't mind ultra-violence and that lark, but there were some points where even I threw the controller on the desk and threw my arms up in the air in a state of "OH NO, THAT GUY! OH NO!" It's brutal, even in combat. Max is constantly punctured with bullet wounds all the way through, when he dies or the last enemy dies, instead of just a red mist and the slow motion like in 2, you get spurts and just mutilation all over. It's grim and like I said, sometimes it goes way too far.
Max Payne 3 is a bizarre game. I really, really enjoyed my time with and some moments were outstanding, but the game is just filled with issues that pushed me too far and soured a good portion of the game for me. The out of place Max Payne story tropes and monologues, the fact that the comic book theme is completely lost and Rockstar didn't do enough to warrant the crime film feeling of this game, also combined with a story filled with so many conveniences and the fact they haven't even fixed the long running issue of shitty boss design in these games. Max Payne 3 is like the drunk that stumbles into the bar every night. Are you going to have a grand old time or are you going to put a bullet in his brain for the annoyances?
1 Notes/ Hide
theguiltygamer reblogged this from thatgamerhub and added:

I had a bad feeling from the get go…

thatgamerhub posted this